Social Media Marketing for Golf Courses
The 19th hole is the town hall of golf.
From table to table, golfers tell stories, rehash rounds, brag about putts drained, complain about bunkers and bad bounces and delight in lucky shots and low scores. They talk about family, jobs, life. They argue, encourage, commiserate. Everyone is engaged, most are happy, some are miserable, in a golf sort of way.
But they all join in.
With 19th Hole Media, we hope to extend the golfing nirvana beyond fairways and greens and into the every day lives of your golfers. Let us help you create a vibrant, active and engaged community for your golf course.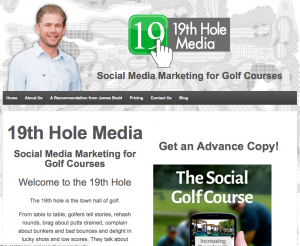 Visit www.19thHoleMedia.com!