Greenskeeper.org is a free online community, golf social network, providing golf course reviews, aeration alerts, overseeding schedules, photos, specials, tee times, score tracking, outings, product reviews, more. It is a great example showing that golfers are looking to connect online.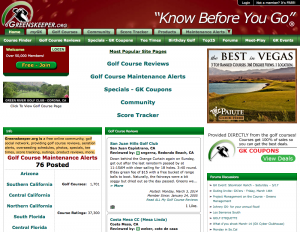 Greenskeeper.org was launched in 2002 and has built up a loyal user base of over 64,000 golfers.  Golfers use Greenskeeper.org to help them decide where to play and engage each other socially.
Greenskeeper.org's mission statement is "To help golfers enjoy their golf experiences as much as possible." It has been steadfast with this mission statement for over 10 years as well as aligning itself with its registered trademark "Know Before You Go."
In our book, The Social Golf Course, we talk more about Greenskeeper.org in Chapter 10.
Visit www.Greenskeeper.org!